Oskar Mencer, CEO of Maxeler Technologies, pioneer of Maximum Performance Computing, was awarded the "Special Golden Arrow" at the 9th International Vienna Congress Com.Sult 2012.
Presented by Nobel Peace Laureate Lech Walesa and former Vice Chancellor of Germany Hans-Dietrich Genscher, Oskar Mencer was described as "a top scientist, a successful businessman, and someone who is just about to revolutionise the world of computers" by Laudator Phillip Blond, director of the think tank ResPublica and commentator for the Guardian newspaper.
Blond continued to describe Mencer's achievements: "At only 40 years of age, he has made it into the league of world-class scientists and was covered in a major article in the Wall Street Journal". In the past 12 months, Mencer was recognized for his pioneering work at Stanford University, Bell Labs, Imperial College and now as CEO of Maxeler Technologies.
"It has been my ambition to apply science and technology to the business world. Through revolutionising the use of scientific algorithms with the right technologies, we can achieve results that were previously impossible." said Mencer. "It is an honour to receive this prestigious award and be associated with such inspiring people as Hans- Dietrich Genscher and Lech Walesa."
As the most prestigious management and business congress of the region, the Vienna Congress Com.Sult not only attracts top managers to Vienna but also brings prominent international politicians, Nobel Prize Laureates and scientists to Austria every year. Vienna Congress Com.Sult stands for exemplary top performers in all areas of life and strives to enable its participants to meet and enter into discussion with the best of the best.
The Lifetime Achievement Award "Golden Arrow" is awarded annually to people for realising extraordinary visionary ideas in an exceptional manner, for making the impossible possible. This year, Hans-Dietrich Genscher, former Minister of Foreign Affairs and Vice Chancellor of Germany, and Lech Walesa, Nobel Peace Prize Laureate, former President of Poland, were recipients of the Lifetime Achievement Award.
Through their unparalleled leadership skills during the fall of the iron curtain and their visionary support for the European project, they paved the way for a better future for millions of people. "This award is a tribute from Vienna Congress Com.Sult to the strength of peaceful resistance and an irrepressible belief in a better world", said Com.Sult organiser David Ungar- Klein.
Previous keynote speakers at Com.Sult include Bill Gates, Jack Welch, Martin Eberhard (founder of Tesla), Jimmy Wales (Wikipedia), and Sir Terry Leahy (CEO Tesco 1997-2011).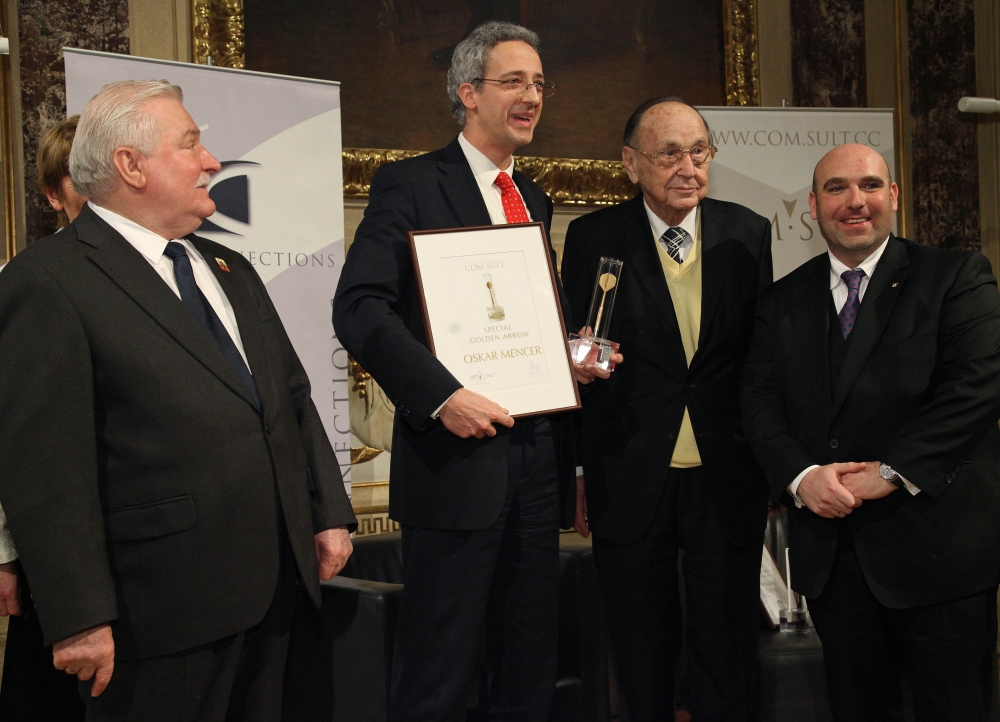 Lech Walesa, Oskar Mencer, Hans-Dietrich Genscher and David Ungar-Klein.
---
About Maxeler
Maxeler Technologies, Inc. pioneers Maximum Performance Computing. Maxeler combines high performance computing (HPC) consulting with custom acceleration technology to deliver competitive advantage. Its complete and scalable solutions include hardware platforms, software programming tools and application consulting. Maxeler's technology enables organisations to speed up processing times by 20-50x, with over 90% reduction in energy usage and over 95% reduction in data center space. Please visit www.maxeler.com for more information.