Seattle, WA, 17 November 2011 – Maxeler, pioneer of Maximum Performance Computing, has been recognized in the annual HPCwire Readers' and Editor's Choice Awards, presented at the 2011 International Conference for High Performance Computing, Networking, Storage and Analysis (SC '11), in Seattle, Washington. Maxeler was recognized with the following honors:
Editor's Choice for best use of HPC in financial services: Maxeler Technologies solution for accelerating risk models at J.P. Morgan
HPC Job Bank 2011 Platinum Employer Award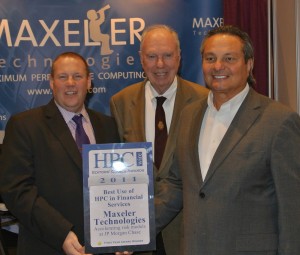 (From left to right) Glenn Rosenberg, VP of Operations & Mike Flynn, Chairman, receiving the award from Tom Tabor of HPCWire
The highly-coveted HPCwire Editor's Choice Awards are determined through a rigorous selection process involving HPCwire editors and industry luminaries. The awards are revealed during the Monday opening reception at the Supercomputing Conference each year, which showcases high performance computing, networking, storage, and data analysis.
Oskar Mencer, Founder and CEO of Maxeler commented, "It is our aim and vision to pioneer Maximum Performance Computing, which enables companies to achieve the previously impossible. For example, our customers can now carry out complex calculations that previously took hours in less than a minute.
"Our technology has a disruptive nature, as it completely changes how computation relates to delivering competitive advantage and business benefits. We are delighted that our effort and contribution is being recognized by industry specialists."
Maxeler is also pleased to be involved with SC'11, where its joint presentation with Erik Vynckier of Scottish Widows on the topic of "Abstraction versus Performance: The real cost of easy programming in Financial HPC" was well-received at the Workshop on High Performance Computational Finance.
About Maxeler
Maxeler Technologies, Inc. pioneers Maximum Performance Computing. It combines high performance computing (HPC) consulting with custom acceleration technology to deliver competitive advantage. Its complete and scalable solutions include hardware platforms, software programming tools and application consulting. Maxeler's technology enables organisations to speed up processing times by 20-50x, with over 90% reduction in energy usage and over 95% reduction in data centre space.